Focus
Kimberlee Postell has transformed a blogging hobby into a movement to insPire women and, in the Process, has witnessed a transformation of herself. "It's not about me. I'm that vessel that people can go to that have low self-esteem, that have been told they're ugly or fat," Postell said. "Anytime I read an email and it starts with 'You inspire me,' I know I'm doing the right thing." Postell, 34, started her blog, Naturally Fashionable (www.thenaturalfashionista.com) in 2009 as a creative outlet. She thought blogging would be a fun way to express herself and segue into creating YouTube videos. "I just started reading someone's blog and then blogs became an obsession," Postell said. "I checked them everyday. Then one day I said, 'I can do this,' and I've been blogging ever since." She soon realized that, while it was a lot of fun, blogging also required a tremendous amount of hard work and dedication. Her primary profession as a teacher at Rocky Mount High School made posting consistently a challenge. But, Postell made a decision to take blogging seriously, and her expectations for the blog and herself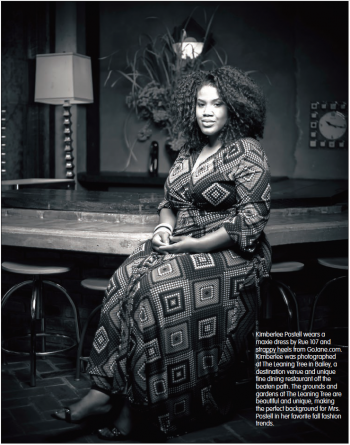 Kimberlee Postell wears a maxie dress by Rue 107 and strappy heels from GoJane.com.
Kimberlee was photographed at The Leaning Tree in Bailey, a destination venue and unique
fine dining restaurant off the beaten path. The grounds and gardens at The Leaning Tree are
beautiful and unique, making the perfect background for Mrs.Postell in her favorite fall fashion
trends.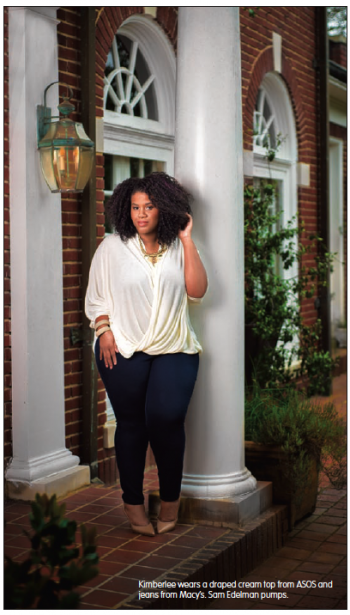 Plum top from H&M, gray trousers from Rainbow Apparel. Pumps
from JustFab.com. See more fall fashion trends from Kimberlee on
her website, thenaturalfashionista.com.
began to evolve. "I think the vision for my blog when I first started, honestly, was just to be popular," Postell said. "I wanted my blog to be known by people. But I think as my blog evolved and I started getting emails from women and I started reflecting on why I was doing what I was doing, it became less superficial. It became more about what I am contributing to this space that's meaningful. Now the goal is to be an influencer, to be a role model and to be an inspiration to women. Wherever you are in life, that's where you are and you need to embrace it." Postell describes herself as a plus-size blogger; however, Naturally Fashionable is a go-to site for women of all ages, races and shapes who are inspired by Postell's spirit and sense of style. The site averages 15-20,000 unique visitors and 70,000 page views per month, and she has partnered with companies such as Talbot's, Ashley Stewart and several boutiques to put together casual, contemporary looks. "I work with whoever's interested and it fits the vision of my blog," Postell said. "I love to help women. I love to inspire women. I like to try a lot of different brands, a lot of different styles. " In some ways, Postell's passions for education and blogging have merged. She has brought elements of what she has learned as a blogger into the classroom, and created a second blog, Blog With Kim (www.blogwithkim. com), which contains online courses and posts for people who are interested in starting a blog. "I try to keep my blog and my job separate. But I try to bring what I do online into the classroom," Postell said. "I think that the way that I bring blogging into the classroom is through assignements and strategies that I do online to attract an audience. You can do that in the classroom, too. I've done assignments with my kids where they can see what it's like to have a blog and learn through blogging." Postell credits creating Naturally Fashionable with the discovery of her entrepreneurial spirit,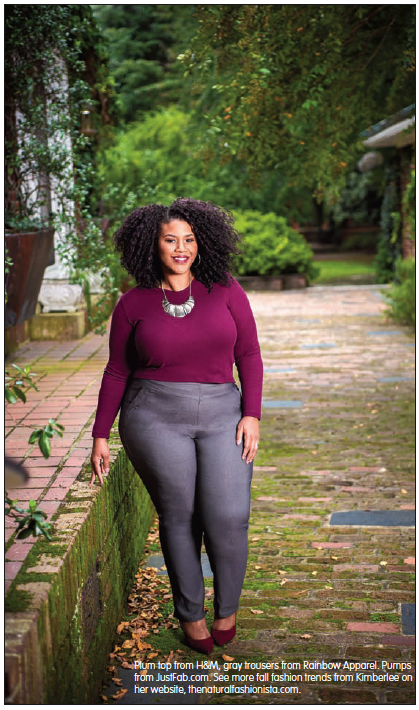 an increase in self-esteem and a desire to give back. "So many good things came out of starting the blog that I never would have imagined," Postell said. "I would have never imagined that I could use my blog as a tool to do my own side businesses. It opened up my creative mind and gave me more of an entrepreneurial spirit to know that I don't have to be boxed in. I have options. To me, that's the best thing that anyone can learn in the world. You don't have to be boxed in to any one career, any job. You have options." "Own It!," a conference Postell hosted last summer, was designed to help women embrace and love who they are. She is looking forward to planning more events like it in the future. "'Own It!' is about owning everything about yourself, whether it be your personality, whether it be your flaws. Owning everything about who you are and being OK with that," Postell said. "It was really an awesome event. It was my first event, and it was a total success. I just want to bring more events to women all over. We hope to take it everywhere." As her company evolves from a one-woman show into a team of people who are ready to further expand the brand, Postell continues to remain humble. "Now I really have to bring some outside people on to help me get my brand to the place where I ultimately want it to be," Postell said. "It's scary because I'm a control freak. It's uncomfortable, but I think there's growth in being uncomfortable. If you're not uncomfortable, you're not growing." There's More: Make sure you check out Kimberlee's "Five Fashion Finds for Fall/Winter" online video with writer LaMonique Hamilton at rockymounttelegram. com/charm. And check out Kimberlee's blog at thenaturalfashionista.com

CAROLINA CHARM WINTER 2015 16
---